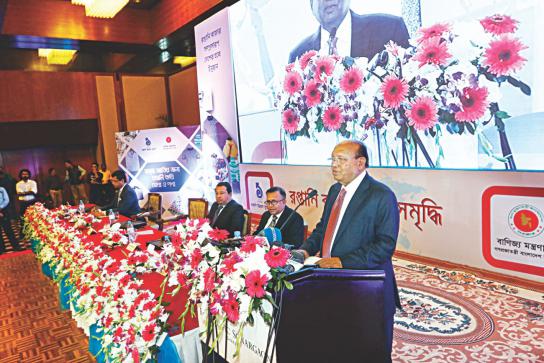 The government yesterday honoured 131 exporters with CIP (commercially important person) cards for their extraordinary performance in 2014.
The commerce ministry and the Export Promotion Bureau also awarded CIP cards to 33 business-persons from different business chambers and trade bodies under the ex-officio category.
Commerce Minister Tofail Ahmed handed the CIP cards at a ceremony held at the Pan Pacific Sonargaon Hotel in Dhaka.The awards were given in 22 export sectors. The government would formulate a policy for the jewellery sector so that its exporters receive the cards in future, said Shubhashish Bose, commerce secretary. The CIPs are entitled to various government facilities until the expiry of their cards. They are allowed to enter the secretariat and invited to programmes organised by the state and the municipalities.
They are also given the letter of introduction in Bangladesh embassies in different countries and allowed to use the VIP lounge at airports. The CIPs, their spouses and children will get cabins at government hospitals on a priority basis. They are also given priority in reservation of seats at state-run airlines, railways and transports.
Speaking on the occasion, Ahmed said although the export volume from Bangladesh has increased, the value has not gone up much. The government gives 3 percent cash incentive on exports to new markets and urged exporters to explore potential in those destinations, he added.
Bangladesh considers all export destinations as new markets except those in the European Union, the US and Canada. On behalf of the CIP card recipients, Asif Ibrahim, a former president of the Dhaka Chamber of Commerce and Industry, said Bangladesh's exporters are facing tough competition due to the devaluation of the currencies of countries such as Vietnam and Turkey.
He urged the government to take special measures to boost exports to countries such as Brazil, Mexico and Russia. Ibrahim called for clearing of congestion in the Chittagong port and improving the infrastructure at the land ports for smooth release and transportation of export and import goods.
The government should also withdraw the source tax on export receipts and give 5 percent incentive to exporters, he said.
Bijoy Bhattachariya, vice-president of the EPB, and Sheikh Fazle Fahim, acting president of the Federation of Bangladesh Chambers of Commerce and Industry, also spoke.
(Courtesy: The Daily Star)