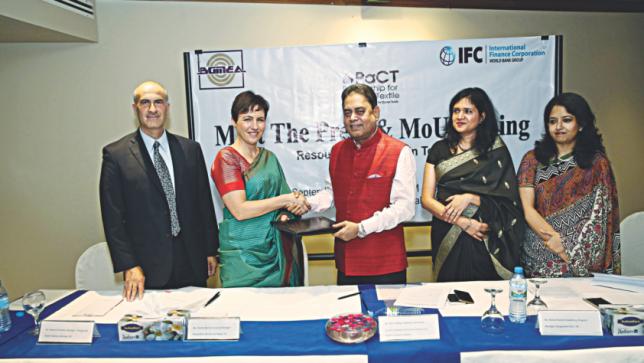 A Chinese steel company has signed a $2.3 billion investment deal with Bangladesh Economic Zones Authority or BEZA.
Yunnan Yongle Overseas Investment Company Limited, a sister concern of Kunming Iron and Steel Holding Company Limited, signed a memorandum of understanding or MoU with BEZA at a Dhaka hotel on Wednesday.
The Chinese firm signed another MoU with its Bangladeshi associate, Star Infrastructure Development Consortium Limited.
Yongle Chairman Wu Yunkun, BEZA Executive Member Harun Ur Rashid and Star Consortium Managing Director Ashraful Haq Chowdhury, signed the MoU on behalf of their respective organisations.
Yongle said in the signing ceremony it intends to invest and establish a Bangladesh-China 'Iron and Steel International Capacity Cooperation Demonstrative Zone Project' in Bangladesh.
Star Consortium will work as Yongle's local partner in the project.
Yongle has sought BEZA's permission to use 1,000 acres of land mainly to establish steel mills and power plants.
The firm will conduct feasibility studies in Moheshkhali and Mirsarai economic zones for land for the project.
Star Consortium Chairman Abdul Matlub Ahmad said it would take seven to 10 months to conduct the studies at an estimated cost of $10 to 20 million.
The firm targets to produce 2 million tonnes of iron and steel in its plant annually, Matlub said.
The other goals of the firm include the establishment of a coal-fired power plant, transfer platform in deep sea and private jetty, and facilities for device and machine manufacturing, and producing cement and building materials, he added.
According to him, Bangladesh will not have to be dependent on other countries for steel production materials once the project is implemented.
Principal Coordinator for SDG Affairs at the Prime Minister's Office Abul Kalam Azad, Chinese Ambassador Ma Mingqiang, and BEZA Executive President Paban Chowdhury, BGMEA President Siddiqur Rahman, among others, were present at the programme.
(Courtesy: bdnews24.com)