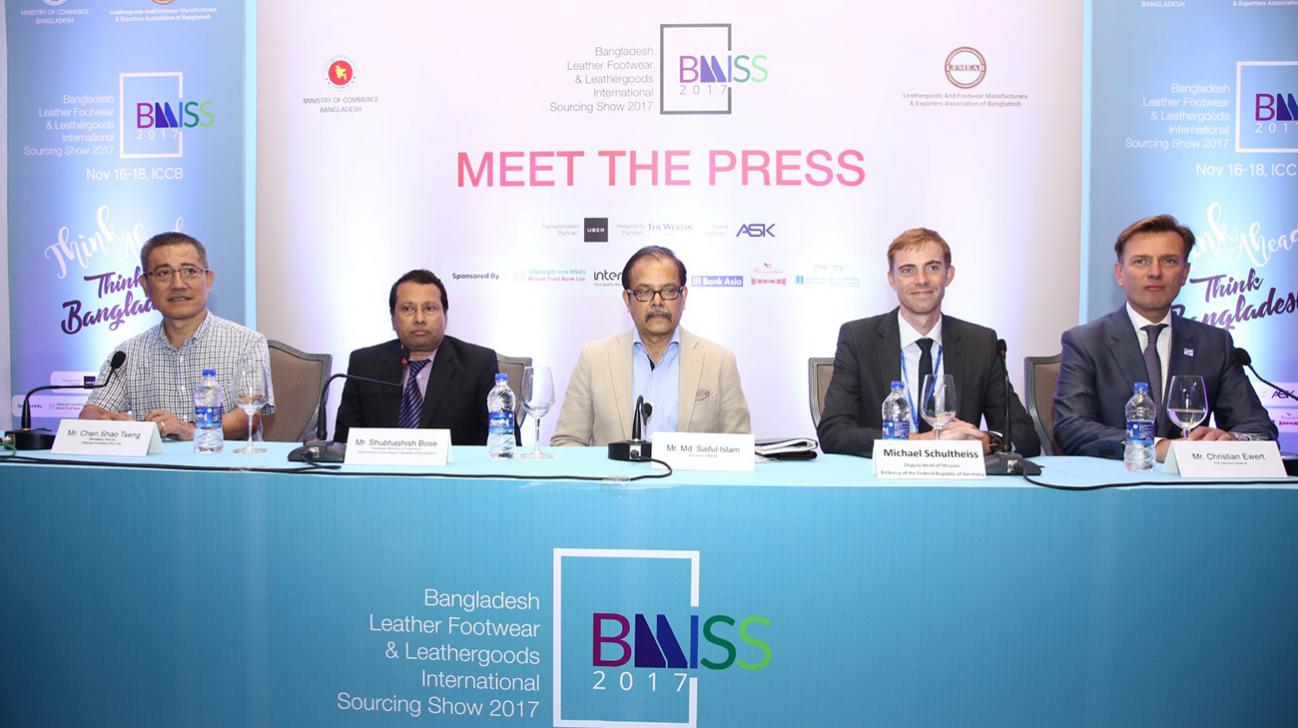 Leather goods and Footwear Manufacturers & Exporters Association of Bangladesh (LFMEAB) in collaboration with Ministry of Commerce (MoC) will organize the first ever "Bangladesh Leather Footwear and Leather goods International Sourcing Show (BLLISS)-2017".
At a press conference held yesterday at the city's The Westin Hotel, the organisers shared with media their overall preparation, different aspects, dimension and expected outcomes of the show, according to a press release.
The show's thematic tagline will be: Think ahead, think Bangladesh.The sourcing show will be held from 16 to 18 November at the International Convention City Bashundhara (ICCB. Leading leather manufacturing companies operating in/from Bangladesh will showcase an exciting collection of their products. Prime Minister Sheikh Hasina has given her consent to inaugurate this grand event, the press release added. There will be seven pavilions and 25 stands in the event.
Shubashis Basu Secretary, Ministry of Commerce chaired the press meet while Md Saiful Islam, President, LFMEAB presided over the event. Michael Schultheiss, Deputy Head of Mission, Embassy of the Federal Republic of Germany in Dhaka, Bangladesh was present as the Special Guest, Christian Ewert, Director General, Foreign Trade Association (FTA) based in Brussels and Chen Shao Tseng, Managing Director, Patenga Footwear (Pvt) Ltd were also present at the event representing international buyer's platform and FDI investor in leather sector respectively.
Shubashis Basu Secretary informed that, "earlier this year, as part of the policy drive to orient Bangladesh's economy towards export diversification, The Government of Bangladesh has declared leather, footwear and leather products the national 'Product of the Year' 2017.
Following this declaration, among other activities round the year, the LFMEAB and the Ministry of Commerce conceived the idea to organize BLLISS 2017. This show will be instrumental in achieving 5billion export earning target by 2021"
LFMEAB president, Md Saiful Islam said that, "the purpose of this show is to turn Bangladesh into a sourcing hub by bringing buyers, global retailers, international sourcing agents to see the quality and range of products, enabling direct interaction with local manufacturers & exporters."
He also informed that association has plan to organize this show every year from now on.
The organizers and the panel expressed the hope that BLISS will also act as a platform that will allow potential foreign investors to know firsthand the investment opportunities as well as business benefits of sourcing from Bangladesh.
As a result, new export order will be directed towards Bangladesh.
(Courtesy: The Daily Star)