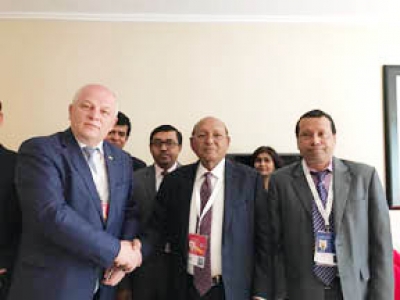 Commerce minister Tofail Ahmed has requested Ukraine to provide duty and quota free market access for Bangladesh.
The minister made the request at a meeting with Ukrainian first vice prime minister and minister of economic development Stepan Kubiv on the sidelines of WTO's 11th ministerial conference (MC) in Argentine's capital Buenos Aires, according to a press release here yesterday.
The developed world decided to offer duty and quota free access to the least developed countries (LDCs) as per the decision of the WTO ministerial conference, it said adding Bangladesh was getting the facilities from most developed countries alongside the European Union (EU).
Tofail Ahmed felt the necessity of forming a trade body comprising businessmen of both the countries and said mutual visits of businessmen would help boost the bilateral trade.
Describing the Prime Minister's initiative of setting up 100 special economic zones (SEZs) in Bangladesh, the commerce minister told the Ukrainian minister that foreign businessmen would benefit if they invest in the SEZs.
Stepan Kubiv assured the commerce minister to take initiatives for forming a trade body and exchange visits of businessmen. He also proposed formation an expert group for it.
Commerce secretary Shubhashish Bosu, Bangladesh's permanent representative to UN offices in Geneva M Shamim Ahsan, EPB vice chairman Bijoy Bhattachariya and WTO Cell director general M Munir Chowdhury, among others, were present.
(Courtesy: The Daily Sun)