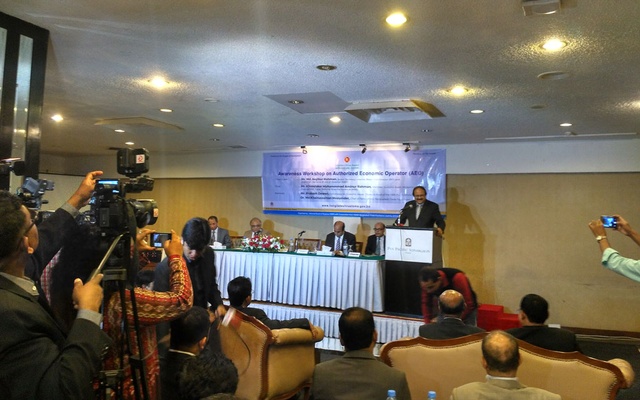 Customs authorities are set to provide compliant and trusted businesses a status that would help them fast-track their import and export consignments under a dedicated channel, officials said.
The Authorised Economic Operator (AEO) status will give scope to trustworthy firms to bring import consignments to their factory premises with minimal checks at ports, said a senior official of the National Board of Revenue.
Likewise, exporters with the status of AEO will be able to ship their consignments in the fastest possible time.
The AEO programme is expected to kick off on a pilot basis by December and on a full-fledged basis from next year, said Mohammad Ehteshamul Hoque, first secretary for customs modernisation and international affairs at the NBR.
AEO status is an internationally recognised quality mark that indicates the business's role in the international supply chain to be secure, and that their customs controls and procedures are efficient and compliant.
The World Customs Organisation has introduced the system with the view to enhancing the security of the international supply chain and facilitating faster trade.
Many economies and blocs such as the US, the European Union, Japan, Singapore, India and China have already introduced the AEO system. Bangladesh initially planned to implement the AEO from 2013 but it could not do so because of many unforeseen issues, Hoque said.
Now, after the ratification of the World Trade Organisation's Trade Facilitation Agreement, the introduction of AEO has become mandatory for Bangladesh.
Manufacturers, importers, exporters, carriers, clearing and forwarding agents, warehouse keepers and distributors will be eligible for the status subject to fulfilling some conditions.
Businesses must have good compliance records, proper management of commercial records, financial viability and capacity to ensure security of cargoes on its premises and throughout the supply chain.
They must also have human resources with knowledge on AEO to qualify for the status, according to the NBR official.
The rules and other criteria for selection of AEOs will be framed in light of the experience of the pilot scheme.
"For the pilot, we are in discussion with some big firms that have good track records of compliance," Hoque said.
The NBR has already incorporated a provision in the Customs Act to grant the AEO status. An AEO will enjoy simplified customs formalities in accordance with the terms and conditions of the revenue administration.
AEOs will be able to save time and cost because of quicker clearance of export and import goods and the new system will help them take their goods to consumers very quickly, Hoque said.
Most importantly, if a country has mutual recognition arrangements with other countries, its AEOs will enjoy similar benefits in those countries.
"For example, if we have an MRA with the EU, our exporters will enjoy similar benefits at Rotterdam, Hamburg or Antwerp ports. This will definitely boost our companies' comparative advantage against exporters from other countries."
(Courtesy: The Daily Star)