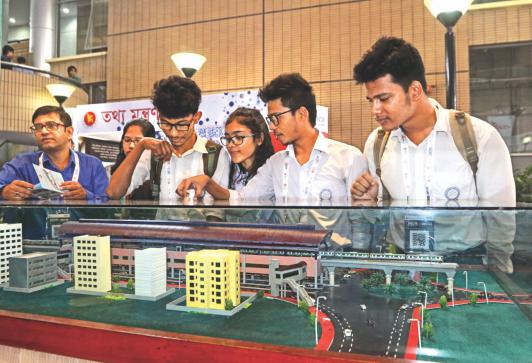 Bangladesh is on the right track to achieve the target of raising its ICT export to $5 billion by 2021, ICT industry leaders said yesterday.
However, huge challenges lie ahead, and the next few years will be very crucial as the industry needs to adapt to technological changes, they said.
The ICT industry leaders were speaking at a seminar titled "$5 Billion Export" organised on the sidelines of the country's biggest ICT event, Digital World. The four-day mega event ends today.
"We have enormous opportunities in the field of digitisation, but we don't have enough skilled human resources to meet the needs of the information and communications technology industry," Mustafa Jabbar, president of Bangladesh Association of Software and Information Services (BASIS), said at the seminar in the city's Bangabandhu International Conference Centre.
The ICT industry is even capable of exceeding the government's export target. But for that to happen, the shortage of skilled manpower has to be addressed, he said.
The government has set a target of increasing ICT export to $1 billion by 2018 and $5 billion by 2021.
Mahboob Zaman, former president of BASIS, said the country missed "the first train" of business process outsourcing (BPO) and other chances as well. But the country's ICT industry is now more capable and ready to face new challenges, and should not miss "the train of adopting new technologies".
Now, 120 Bangladeshi companies are exporting ICT products worth $750-$800 million to 35 countries, he mentioned.
"We need to increase our exports seven to eight times within the next three years if we are to achieve the target," said Zaman, also managing director of DataSoft Systems Bangladesh Ltd.
"We have a big number of work orders from other counties. But we are unable to accept all of those for a lack of skilled manpower."
Zaman also stressed the need for adopting new technologies such as the Internet of Things (IoT), artificial inelegance and robotics to help the industry grow furhter.
On the reasons behind the shortage of skilled manpower, Jabbar said it takes at least three years for a university to modify or update its syllabus, and new technologies hit the market even before the syllabus is changed.
The BASIS president noted that most of the local ICT companies cannot take part in government procurement due to various limitations such as failure to meet the requirement of having a certain annual turnover.
"If Bangladesh Bank had taken IT support from a local company, it would have never fallen victim to cyber attacks," said Jabbar.
In February last year, hackers stole $100 million (Tk 780 crore) from the BB's foreign currency account with the Federal Reserve Bank of New York.
In his key-note presentation, M Rokonuzzaman, a professor of electrical and computer engineering at North South University, said, "Around 800 million traditional jobs will be lost due to advancements in robotics by 2030, and Bangladesh needs to prepare itself to face that challenge."
He also estimated that Bangladesh's export earnings from the ICT sector would reach $11 billion by 2028. But for that to happen, the country needs to make good preparations in various areas.
Rashad Kabir, managing director of Dream 71, a leading software company in the country, said, "Outsourcing alone will not be enough to achieve the target. We need to get involved in big government projects in other countries."
And to that end, Bangladeshi companies can target development countries like Myanmar and Afghanistan, he added.
Speaking on the occasion, Maldivian Defence and National Security Minister Thorik Ali Luthufi said they are very interested in taking digital solutions from Bangladesh as it has made significant progress in the ICT sector, compared to many other countries.
Abu Hena Mohammad Razee Hasan, deputy governor of the central bank, also spoke at the seminar.
(Courtesy: The Daily Star)