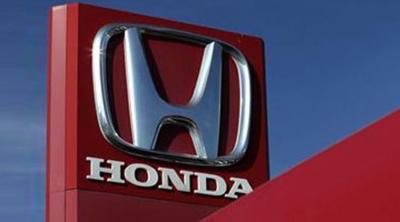 The Japanese Honda Motor Company has planned out a project to manufacture motorcycle in Bangladesh next year as the company's concern "Bangladesh Honda Private Limited" is setting up a motorcycle assembling and manufacturing plant in the country. Industries Minister Amir Hossain Amu as the chief guest today laid the foundation stone of the factory at privately-owned Abdul Monem Economic Zone at Gazaria in Munshiganj district.

Among others, Bangladesh Economic Zones Authority Executive Chairman Paban Chowdhury, Japanese Ambassador to Bangladesh Hiroyasu Izumi, Head of Honda Motors for Asia and Oceania Region Shinji Aoyama and Managing Director of the Bangladesh Honda Private Limited Yuichiro Ishii were present at the function.

Amu said the factory will play a vital role in expediting the motorcycle industry in the country and create employment opportunities. "The government has set a plan to increase the country's motorcycle production to 10 lakh and employment opportunities in the sector to 16 lakh by 2025," he added.

Under the leadership of Prime Minister Sheikh Hasina, he said, the government is implementing different mega projects, including Padma Multipurpose Bridge Project and Dhaka Metro Rail Project, to develop the country. Japanese Honda Motor Company started its operation through opening a joint venture company with the state-owned Bangladesh Steel and Engineering Corporation (BSEC) called 'Bangladesh Honda Private Limited' in 2013 and set up a factory in Gazipur for assembling motorcycle.

BSEC owns 30 percent share of the company which has been maintained in the new factory.

Honda Motor Company is the world's largest motorcycle manufacturing company, which wants to start production in the factory in 2018. As per the plan, they will produce one million motorcycles in the first year. In the fifth year, they want to increase production to three million units, official said.

Honda is investing in the new factory about US$4.40 crore or about Taka 350 crore. Initially, the new factory will create employment opportunities for around 300 people. Later, it will be 500 people, they said.

Honda Motor Company produces motorcycles, cars, robots, equipments for electricity and fuel and aircraft products.

According to the latest financial report, the company produced 66.91 lakh units of motorcycles in the six months (April 1 to September 30) of current year 2017, which was about 14 percent more than the same period last year.

Honda is a well known name in the motorcycle market of Bangladesh. Many people in the country still call motorcycles as Honda. The concerned people said that Honda will increase their production capacity in new factories. The factory will increase the value addition in the country and the price of the motorcycle is expected to reduce the concerned people.
(Courtesy: Bangladesh Sangbad Sangstha )