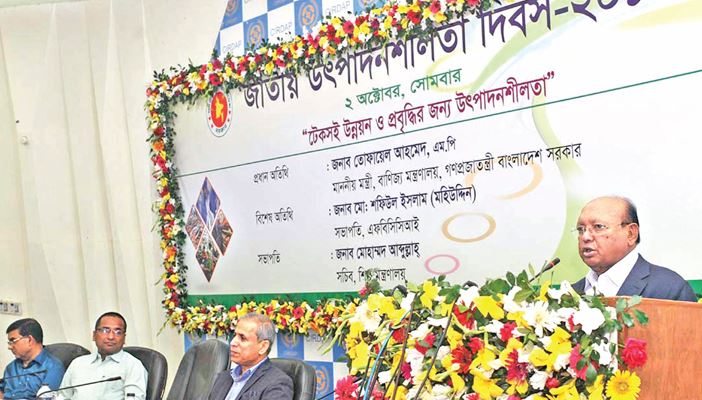 Commerce Minister Tofail Ahmed yesterday laid emphasis on increasing productivity further to attain the export goal, reports BSS.
"Productivity efficiency is needed to be upgraded to 90 per cent from the 70 per cent and we have to work further for strengthening productivity efficiency," he added.
The minister was addressing a seminar as the chief guest at CIRDAP auditorium organised by the National Productivity Organisation (NPO) to mark the National Productivity Day-2017 with the theme "Productivity for Growth and Sustainable Development".
Mentioning that Bangladesh has attained efficiency of paperless trade in competitive global trade, he said the NPO has to perform with due responsibility towards turning the country into a middle-income one by 2021.
He said Bangladeshi readymade garment factories have been established as compliance factory with the initiatives of government and exporters. "Our labourers are now working in safe and working friendly atmosphere."
Vice-Chancellor of Bangladesh University of Engineering and Technology (BUET) Professor Dr Saiful Islam made keynote presentation with Industry Secretary Mohammad Abdullah in the chair.
FBCCI President M Shafiul Islam Mohiuddin spoke on the occasion as special guest while NPO Director SM Ashrafuzzaman gave welcome speech.
Earlier on Saturday, Commerce Minister Tofail Ahmed said the government is working to modernise country's 208 readymade garment (RMG) factories into world standard green ones with safe working conditions, reports BSS.
"A total of 208 RMG factories will be turned into world standard green factories with safe working conditions… meantime many Bangladeshi factories gained the status of green ones by maintaining the international standards," he told a function on 'Towards Sustainable Textile" organised by International Finance Corporation (IFC) in the capital.
Tofail, also senior Awami League leader, said after the unexpected Rana Plaza accident, the safe and congenial working atmosphere, including safe building and fire safety arrangements, were ensured at all RMG factories across the country.
Noting that Bangladesh is presently working to export RMG goods worth about US $50 million by 2021, the commerce minister said country earned 28 million US dollar from this sector last year.
"Overall export, especially the RMG one, is increasing day by day," he added.
Referring to Rohingya influx to Bangladesh territory, Tofail termed it as a threat to the country's overall economy.
(Courtesy: The Independent )