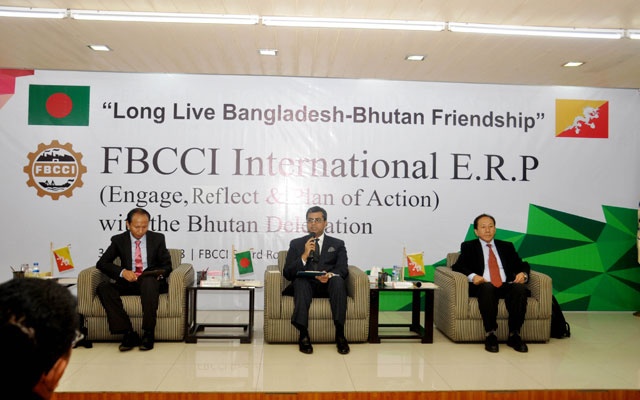 The visiting Bhutanese delegation has expressed keen interest to further enhance the existing trade with Bangladesh saying that both the countries need to identify the potential sectors for expansion of bilateral trade.
The Bhutanese delegation made their deep interest at a discussion meeting with the business leaders of the Federation of Bangladesh Chambers of Commerce and Industry (FBCCI) at FBCCI conference room in the city on Wednesday.
Deputy Chamberlain to the King of Bhutan Chewang Rinzin led the delegation comprising of 36 government officials of different ministries of Bhutan visiting Bangladesh in a week-long training programme.
The programme titled ERP (engage, reflect and plan of action) was moderated by FBCCI Senior Vice-President Sheikh Fazle Fahim, while Bhutanese Ambassador in Dhaka Sonam Tobden Rabgye was present.
FBCCI directors and the Heads of Member bodies of FBCCI also attended the meeting.
The delegation came to Bangladesh to find out the challenges and to explore the potentials of enhancing bilateral trade with Bangladesh, they added. As Bangladesh and Bhutan both are in LDC group, the existing trade can be reached to a new height by combined efforts, they mentioned.
Sonam Tobden Rabgye mentioned the development of Bangladesh as very remarkable.
The Ambassador also mentioned about simplifying business visa for Bangladesh business entrepreneurs to work with Bhutan.
Sheikh Fazle Fahim mentioned about the non tariff measures (NTM's), and emphasized on developing the land port facilities and cargo handling system.
The private sector of Bangladesh, side by side the government is working sincerely to improve the trade relation with Bhutan, he added. The FBCCI leader also invited the Bhutan people to visit the attractive tourism spots of Bangladesh.
(Courtesy: The Daily Sun)