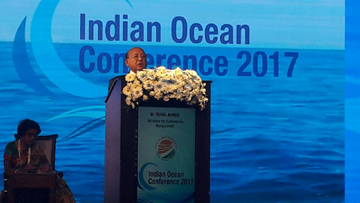 Commerce Minister Tofail Ahmed has emphasized on strengthening business alliances like the South Asian Free Trade Area (SAFTA) and Bay of Bengal Initiative for Multi-Sectoral Technical and Economic Cooperation (BIMSTEC) to increase the volume of trade and investment in the countries situated along the shore of Indian Ocean.

"The Indian Ocean is the third largest of the world's oceanic divisions. Around half of the world's total number of container-laden ships, one third of the cargo traffic, two third of the oil tankers move through this channel. This area is very significant from the trade perspective. We need to increase the volume of trade and investment through ensuring proper use of natural resources and safe passage of merchant ships," the commerce minister added.

Tofail has said this while addressing the first special plenary session of the Second Indian Ocean Conference-2017 in Sri Lankan capital Colombo on August 31 according to a message received here today.

Presided over by Director of Institute of Chinese Studies, India, Ashok Kantha, the session was addressed by Sri Lankan Prime Minister Ranil Wickremesinghe, Indian Foreign Minister Sushma Swaraj, Singaporean Foreign Minister Dr Vivian Balakrishnan and Nepalese Foreign Minister Krishna Bahadur Mahara, among others.

"Bangladesh under the firm leadership of Prime Minister Sheikh Hasina believes that it is possible to increase trade and investment by maintaining friendly relations with others. All the parties concerned can enjoy the benefit of this," Tofail added.

Representatives from 29 countries took part in the three-day long conference. The first conference was held last year in Singapore.
Courtesy: Bangladesh Sangbad Sangstha