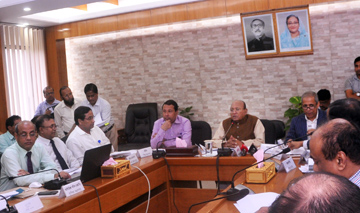 The government has set US$ 37.5 billion export target from products and computer services for the fiscal 2017-18 year which is 1.35 percent more than previous fiscal.
Readymade garments (RMG) are expected to contribute US$ 31.6 billion or 80 percent of the total target as the main export item.
"We hope to reach the target," said Commerce Minister Tofail Ahmed while unveiling the export goal for earning foreign currency in FY18 at a press briefing at his ministry office today.
The export goal was US$ 37 billion for products and computer services in fiscal 2016-17 year, but the country has bagged US$ 34.66 billion as export earnings from products and computer service while US$ 3.35 billion from service sectors in 11 months, he added.
The minister, however, revealed the total foreign currency earnings target with the incorporation of the amount of US$ 3.5 billion from service sector will stand at US$ 41 billion in FY18.
Mentioning that country's 54 percent export earnings come from European Union, Tofail said: "Although the number of export items was increased last fiscal, we did not get expected earnings due to depreciation of Euro and Pound."
He hoped that it would be possible with the cooperation of the concerned people this year.
Last year RMG has contributed 80.81 percent of the total export earning while leather sector 3.54 percent, jute and jute products 2.76 percent and home textile 2.29 percent. On the other hand, engineering sector has witnessed 35.05 percent growth while plastic product sector registered 31.4 percent alongside the RMG and other items.
Commerce Secretary Shubhashish Bose, Industries Secretary Mohammad Abdullah, Expatriates' Welfare and Overseas Employment Secretary (In-charge) Dr Namita Halder, Export Promotion Bureau Vice Chairman Bijoy Bhattacharjee and FBCCI President Shafiul Islam Mahiuddin, among others, were present.
(Courtesy: Bangladesh Sangbad Sangstha )