Jamdani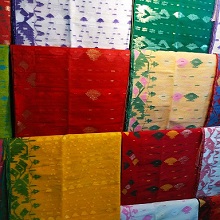 Jamdani is a fine muslin textile (figured with different patterns) produced for centuries in South Rupshi of Narayanganj district in Bangladesh on the bank of Shitalakhwa river. The historic production of jamdani was patronized by imperial warrants of the Mughal emperors. Under British colonialism, the Bengali jamdani and muslin industries rapidly declined due to colonial import policies favoring industrially manufactured textiles. In more recent years, the production of jamdani has witnessed a revival in Bangladesh. Jamdani is typically woven using a mixture of cotton and gold thread.
Ilish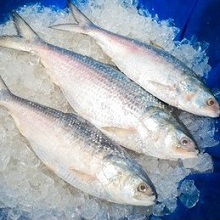 The ilish also known as the ilishi, hilsa, hilsa herring or hilsa shad, is a species of fish related to the herring, in the family Clupeidae. It is a very popular and sought-after food fish in the Bangladesh as well as Indian Subcontinent. The most famous hilsha fish comes from Chandpur District,Bangladesh. It is the national fish of Bangladesh. Department of Patents, Designs and Trademarks under the Ministry of Industries of Bangladesh has declared the recognition of ilish as the product of Bangladesh.86% (2021) of total produced ilish in the world is produced in Bangladesh.
Khirsapat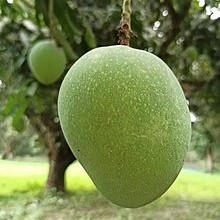 "Khirsapat" mango from Chapainawabganj is the third geographical indicator or GI product of Bangladesh. Mango is recognized as Bangladesh's own product through GI recognition. It started about 200 years ago. Maharaja Sutangshu Kumar Acharya Bahadur of Mymensingh established a mango orchard at Kansat in Chapainawabganj. Khirsapat mango was cultivated in that garden along with other excellent varieties of mango. At present this delicious variety is being cultivated commercially in five upazilas of Chapainawabganj district. At present, 30 percent of the mangoes produced in Bangladesh are Khirsapat mangoes.
Muslin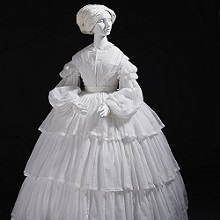 Muslin is a cotton fabric of plain weave. It is made in a wide range of weights from delicate sheers to coarse sheeting. It gets its name from the city of Mosul, in Iraq, where it was first manufactured. In the 17th and 18th centuries dhaka in Bengal was regarded as producing the finest muslins.
Shotoronji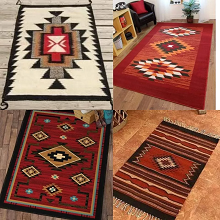 Shotoronji is a traditional handicrafts of the Rangpur region of Bangladesh. It has recently been declared as a Geographical Indication Product of Bangladesh. It is basically a carpet used both as a fashion element and carpet to prevent the bitter cold of its original region. Currently it is one of the most popular exported handicraft products of Bangladesh as Bangladesh exports it to over 50 countries.
Silk of Rajshahi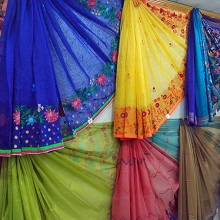 Rajshahi silk is the name given to the silk products produced in Rajshahi , Bangladesh. It is famous because it is a high quality fabric used for clothing, especially for saris. In 2021, it was given Geographical indication status as a product of Bangladesh.
Kalijira Rice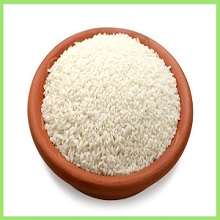 Kalijira is G.I product of Bangladesh. Kalijira rice is a famous fragrant rice of Bangladesh. This rice looks a lot like Kalijira so it is called Kalijira rice. Our Kalijira paddy has been collected from the farmers of Patuakhali, Bhola, Jhalokati and several other areas of Barisal region
Kataribhog Rice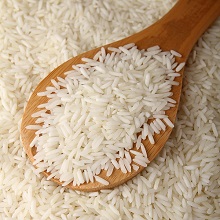 Kataribhog is a fragrant rice of Bangladesh. It is mainly found in Dinajpur area. Kataribhog in Dinajpur is a geographical indicator product of Bangladesh. This rice looks slender and long. High sandy loam soils are suitable for Kataribhog cultivation.
Sadamati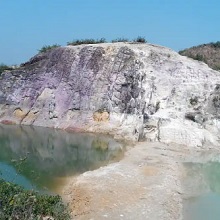 Sadamati in Vijaypur is a geographical indicator product of Bangladesh. Vijaypur is an interesting tourist destination in Durgapur upazila. It is famous for its natural beauty. Plain is found in the Shasarpar area of ​​Vijaypur; Which is shipped across the country
Chinigura Rice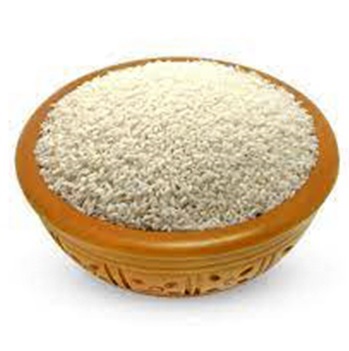 Chinigura Rice is a famous type of rice in Bangladesh. It gives you the pure and fresh texture of rice which is amazing to eat. This rice was produced in Dinajpur. Moreover, Apart from Rajshahi, Bogra, Naogaon mills process Chinigura rice. The size of the rice is very small and a bit curvy in shape. It gives a sweet aroma when it is cooked. Chinigura rice is cultivated in sandy and loamy soil.
Bagda Chingri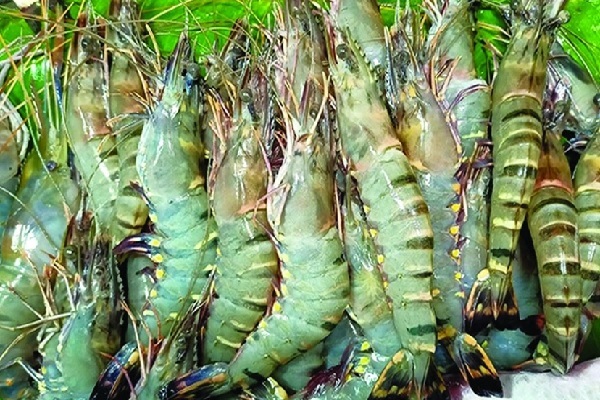 Bagda shrimp is a well-known fish in our country. It is delicious to eat and beautiful to look at. They are mainly marine i.e. brackish water shrimps. They can be seen at depths of up to 162 meters in the large state. A large number of Bagda shrimp larvae are found on the coast of Bangladesh or in the estuarine areas. There are 540 species of shrimp in seven families in the world. The largest shrimp is Pinaeus monodon. It becomes up to 336 millimeters or 13.2 inches and weighs up to 450 grams or 1 pound. This fish is found in the region of Cox's Bazar, Teknaf, Maheshkhali, Chakria, Khulna, Bagerhat, Satkhira etc. As a financial fish, Bagda is in great demand in the world.
Fazli Mango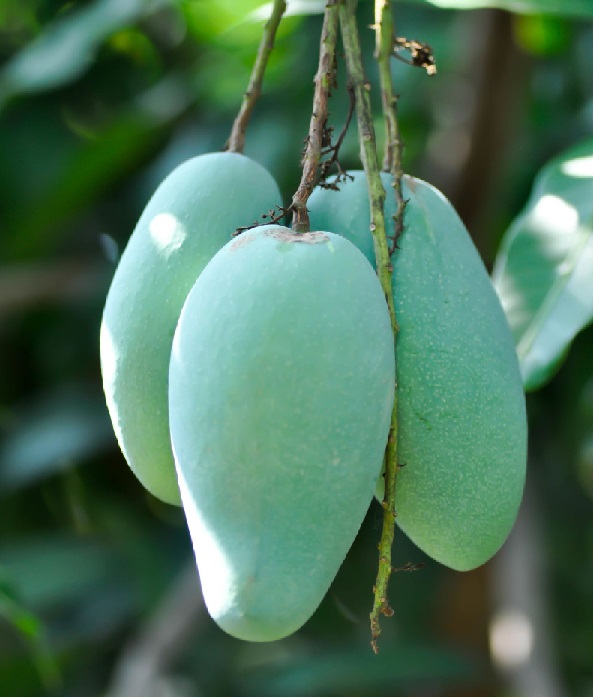 The Fazli mango is a mango that is primarily grown in Bangladesh. It is a late maturing fruit, available after other varieties. Each mango can be quite large, going up to a kilo. Fazli mango of Rajshahi Division is famous in Bangladesh. It is being exported now.
Bogurar Doi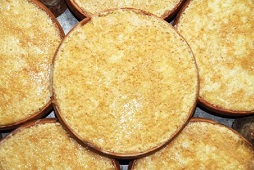 The curd known as Bogra curd is mostly produced in Sherpur Thana. Apart from the original Hindu Ghoshes of Sherpur's Ghoshpara make this curd. Now Muslims also make this curd. People of pal community are also indirectly involved in curd business including curd shop employees, transporters, firewood suppliers, earth movers, pots makers. Everyone concerned including Ghosh, curd making workers and factory owners are happy that Bogra's curd got GI recognition.
Tulshi-Mala Rice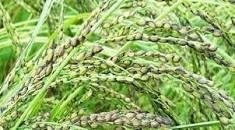 Tulshimala is a photosensitive Amon variety of rice. The color of this rice is dark gray. It is planted from the last week of July to the first week of August. Flowering of this rice occurs from late October to mid-November.It is harvested from the 1st week to the last week of December (middle of Agrahayan to beginning of Paush bengali month). The height of Tulshimala rice plant is 110-185 cm, the average number of buds is 8-10. The average grain length is 22-24 cm (the grain length is longer in wheat). Average number of grains per seed: 140-180. It grows at Sherpur district in Mymensingh division and 20 south districts of Padma river.
Shital-Pati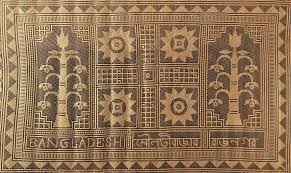 A cool rug is a floor covering with leaves or rugs. It is a traditional cottage industry of Bangladesh. They are made from the bark of murta or pati bet or mostak, a herbaceous plant. Sylhet is famous for this rug. Tree of this pati is grown and found in Raiganj Upazila of Sirajganj district, Barisal, Tangail, Comilla and Lakshmipur disticts. Shital patti is available to buy in Newmarket, Karwan Bazaar, Dhaka.
Langra-Mango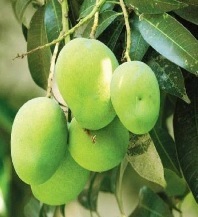 Langra mango is known as the king of mangoes in Bangladesh. It looks a bit round and smooth. The weight of each mango becomes 200-600 grams. Langra mango is grown in almost all the districts of Bangladesh. However, it is found more in Chapainawabganj, Rajshahi, Naogaon, and Natore areas.
Kachagolla of Natore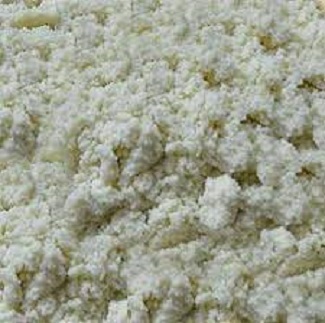 Kachagolla of Natore is a sweet made from milk produced in Natore district of Bangladesh. This sweet is known as Kachagolla as it is prepared from raw curd obtained from cow's milk. Although it originated in Natore, this sweet is available in several districts of Bangladesh besides Natore. Elements of Kachagolla are chickpeas, mawa, cardamom powder, sugar.
Ashina Mango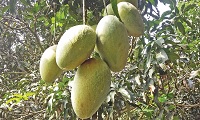 Ashina Mango is a very juicy, fragnant and fibreless fruit in Bangladesh. Traditionally, Bangladesh's mango market lasts till July.We get Ashina mangoes in the market in August after ran out sweet mangoes. The size of this mango becomes large.The green Ashin mango becomes fairly sour and sweet after ripe. It grows in the region of Rajshahi, ChapaiNawabganj etc.