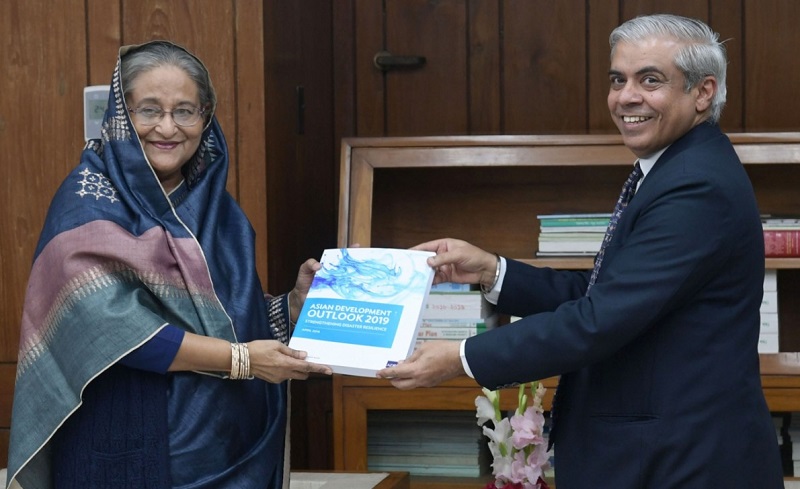 Bangladesh has achieved the fastest growth in the Asia-Pacific economies comprised of 45 countries, according to the Asian Development Bank (ADB).
The country attained 7.9 percent growth which was the fastest expansion since 1974 in the outgoing fiscal year of 2018-19, according to the Manila-based donor.
The bank predicted that the growth will be 8 percent in the FY2019 and FY2020, terming it a new record.
"Bangladesh will continue to be the fastest in the Asia-Pacific," the bank said in its Asian Development Outlook (ADO).
ADB Country Director for Bangladesh Resident Mission Manmohan Parkash handed over the ADO to Prime Minister Sheikh Hasina at her office in the parliament.
The ADO, the annual publication of the ADB, evaluates and forecasts economic performance of the 45 Asian and Pacific countries.
It said the growth will be moderate across most of developing Asia -- 5.7 percent in 2019 and 5.6 percent in 2020 from 6.2 percent in 2017 and 5.9 percent in 2018.
South Asia will see buck trend of slowing growth in Asia -- 6.8 percent in 2019 and 6.9 percent in 2020.
The ADO said the key attributors of this growth are strong leadership, good governance, stable government and continued political calm, sound macroeconomic policy and right development priorities.
The drivers of the growth have been identified as higher public investment, stronger consumption demand, revival in exports, improved power supply and higher growth in private sector credit.
The ADO pointed out that Bangladesh has favourable trade prospects despite a weaker global growth while exports and remittances are likely to increase further.
It also mentioned that strong public investment due to continued policy environment and expeditious implementation of large infrastructure projects and higher tax collection with expanded tax base will move Bangladesh economy further.
It said Bangladesh's banking system reforms will attract higher private investment which will support the growth.
The prime minister said the government is gradually advancing the economy in a well-planned manner. "We've done our analysis before formulating the budget this year also," she said.
The premier mentioned that when Awami league was in the opposition, her party had also taken various types of economic programmes for the sake of the country, PM's Press Secretary Ihsanul Karim said while briefing journalists.
"Our Father of the Nation Bangabandhu Sheikh Mujibur Rahman had a vision for developing the country in totality and reducing the gap between the rich and poor and urban and rural areas. We're working towards that direction," Hasina said.
She said the government is setting up 100 economic zones in the country where investors from across the globe can set up their industries.
Parkash highly appreciated the government's economic plan under the leadership of Hasina, saying all of its development programmes are people-centric.
Principal Secretary M Nojibur Rahman and Finance Secretary Abdur Rouf Talukder were also present at the meeting.
Source: The Daily Star