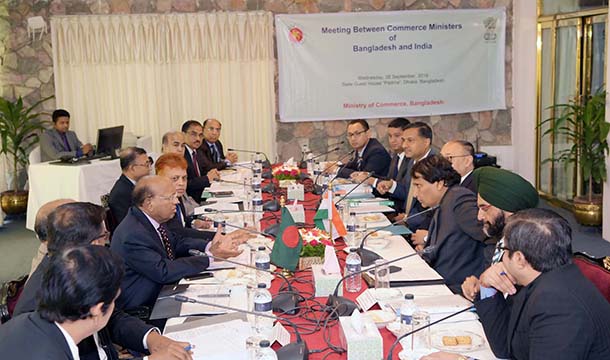 Bangladesh and India have agreed to remove the existing barriers to expand bilateral trade.
The two countries revealed it today in a joint communique after a bilateral meeting between the two sides at the State Guest House Padma. Commerce Minister Tofail Ahmed led the Bangladesh side while his Indian counterpart Suresh Prabhu the Indian side.
Both the ministers reiterated their commitment to further strengthen the bilateral relations on the basis of friendship, trust and understanding for the mutual benefit of the people of Bangladesh and India.
They said a number of issues related to trade, investment and connectivity such as comprehensive economic partnership agreement, border haats, improvement of infrastructure and operations of land customs stations on the Bangladesh-India border, recognition of test certificates, anti-dumping measures and port restrictions were discussed in the meeting.
Considering the vision of Bangladesh to become a middle income country by 2021 and a developed country by 2041, both ministers agreed a comprehensive economic partnership agreement (CEPA) covering goods, services and investment would provide a sound basis for substantial enhancement of trade and commercial partnership.
They directed their officials concerned to undertake a joint study on the prospects of entering into a bilateral CEPA.
Tofail and Prabhu agreed to expedite the constitution of a Bangladesh-India CEO Forum for providing policy level inputs relating to trade and investment issues under different sectors of interest such as jute, textiles, energy, pharmaceuticals and information technology.
The Forum could convene sectoral sub groups to deliberate on specific issues concerning each sector.
The Indian minister invited Bangladesh's participation in the Partnership Summit, to be organised by India in January 2019, as a partner country. He also offered to organize a joint investment summit in India in October/November 2018, focused on bilateral investments.
Prabhu also invited Commerce Minister Tofail Ahmed to participate in the summit, along with a business delegation drawn from identified sectors of interest.
Tofail Ahmed requested the Indian investors to avail the facilities being offered by the Bangladesh Economic Zones Authority (BEZA).
In the context of a number of new initiatives being taken by both India and Bangladesh in various sectors, both ministers agreed to establish a mechanism such as a joint multidisciplinary group for sharing of best practices for mutual benefit.
Tofail requested to address the issue of anti-dumping duty levied on import of jute goods and other products from Bangladesh to India.
In response, Prabhu conveyed that the concerns of the relevant exporters would be taken into consideration during the investigations.
He also suggested that a meeting between the Jute industries of the two countries could be organized to find the way forward on resolving the issue.
In the meeting, both sides agreed to arrange industry-specific interactions among the respective stakeholders to enhance business to business cooperation and utilize inherent advantages of both countries towards a larger share of the global value chains relating to pharmaceuticals, leather, jute and textiles sectors.
Both Tofail and Prabhu agreed for the completion of six new Border Haats which are under construction and identification of locations for six additional Border Haats, including Dalu-Nakugaon in Sherpur district proposed by Bangladesh in consultation with relevant stakeholders, including Government of Meghalaya by the Indian side.
Recognizing the importance of Petrapole-Benapole land border trading point, they agreed to remove impediments affecting smooth clearance of cargo at this location. They also agreed for a one-time push to remove congestion of cargo trucks, with effect from October 15, 2018, for a period of two months.
Prabhu reiterated India's offer to support improvement of infrastructure of Land Customs Stations (LCS) in Bangladesh, adjoining Tripura border.
Tofail Ahmed raised the issue relating to recognition by Indian authorities of test certificates issued by the Bangladesh Standard and Testing Institution (BSTI). Suresh Prabhu assured him that expeditious resolution would be carried out for acceptance of BSTI test certificates for export of cement and steel products from Bangladesh.
On the request of recognition of BSTI test certificates for 6 additional food products, he said it would be recognized once BSTI receives the accreditation from NABL or equivalent institution for these products.
Both ministers expressed appreciation on the recent developments in the field of connectivity between the two countries, including rail connectivity.
Noting the need to restore pre-1965 railway connectivity between two countries, Bangladesh proposed to start a new end-to-end train service between Dhaka and Siliguri with customs and immigration checks at the starting points at both ends. Bangladesh mentioned the need to establish seamless dual gauge rail connectivity between western and eastern part of Bangladesh for which Indian side offered its support to Bangladesh.
Officials concerned of both sides were present.
Courtesy: Bangladesh Sangbad Sangstha