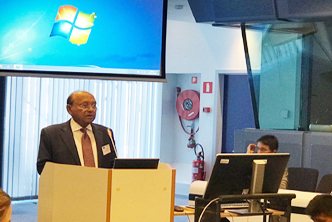 Bangladesh is now ready to export footwear products to the developed world maintaining the world-class standard as like as Ready Made Garments (RMG) products. Commerce Minister Tofail Ahmed said this on Tuesday.
The Minister, now visiting Brussels, said that leather goods are a glorious export product of Bangladesh that has a huge demand in the global market. A huge quantity of footwear is produced here which is exported to various world markets every year.
Tofail Ahmed was addressing a special workshop on "RMG and Footwear of Bangladesh' jointly organized by the European Union (EU) and Economic Cooperation and development organization OECD, sideline the 4th meeting of the Sustainability Compact at Brussels.
"The high quality raw materials of footwear is produced locally in Bangladesh, at the same time we have large skilled manpower of our own, so we are able to export high quality footwear items like the apparel products", Minister added.
He mentioned that already Bangladesh has started exporting footwear after fulfilling the local demand, so reasonably world class footwear industries are being set up one after another in our country.
Tofail said huge FDI is also coming in for footwear industry. Developed countries like EU, Canada; USA will be benefitted if they import footwear from Bangladesh.
Commerce Minister sought cooperation from all concerned to keep the wheels of the economy running, the government has been working relentlessly to diversify both the export products and market.
"The government of Bangladesh trying its best for the wellbeing of the workers in RMG sector; their rights have been ensured by amending the labour laws, factories have been renovated for their safety, now the workers are enjoying a working friendly environment and one after another green factories have been established", he pointed out.
Mentioning that all the RMG factories in Bangladesh are now compliant, Minister said the industry owners had to reinvest to make the factories most modern so the buyers should increase the price of the products.
He said the sustainability compact was adopted comprising the EU, Canada, USA which is established on three pillars. Bangladesh has ensured the rights of workers, building safety and fire safety and also their health safety, so now time has come take effective measures to ensure proper prices of the apparel products.
State Minister for Labour and Employment, Md. Mojibul Haque Chunnu also spoke on the occasion while Commerce Secretary, Shubhashish Bose, Labour and Employment Secretary, Afroza Khan, Bangladesh Ambassador to Brussels, Md. Shahadat Hossain, FBCCI President, Shafiul Islam Mohiuddin, BGMEA President, Siddiqur Rahman, Executive Director of Bangladesh Export Processing Zone, Major General Md. Habibur Rahman Khan and other members of Bangladesh delegate also took part in the workshop.
(Courtesy: Bangladesh Post)