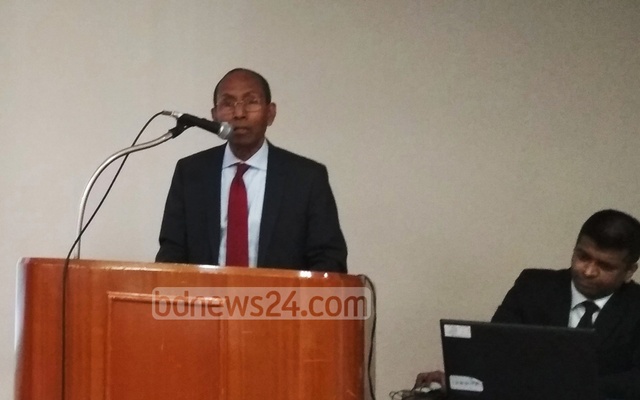 Presenting a new Bangladesh, the head of the investment promoting agency has urged the Japanese businesses to invest in Bangladesh and be a "partner" in its "exceptional" progress.
"Whatever achievement we have made, Japan has been a partner in our progress," Executive Chairman of Bangladesh Investment Development Authority or BIDA Kazi M Aminul Islam said on Tuesday.
He tried to impress on Japanese investors why they should make Bangladesh their next investment destination.
"Invest in Bangladesh, and be with Bangladesh," he said.
The embassy of Bangladesh in Japan, BIDA, and the Osaka Chamber of Commerce and Industry co-organised the investment seminar where over 100 businessmen of the Japan's port city and commercial centre convened.
Many of them who have invested in Bangladesh praised the business environment to lure their peers.
"There are a number of challenges, but it's a very thriving country. Once you get off the plane, you will feel that there is a lot of opportunities in the country," said Masahiro Hiraishi, President of Maruhisa, a company that has factory in Bangladesh and exports clothes to Japan from there.
He said he shifted his company to Dhaka from China in 2009.
Mohammad Hasan Arif, Commercial Counsellor of Embassy of Bangladesh, said the seminar aims to take forward Japan-Bangladesh business relations that can contribute to Bangladesh's economic development.
Known for its development support to Bangladesh, Japan is now emerging as a major trading partner. The bilateral trade is nearly $3 billion and Japan is now the ninth export market.
The bilateral relations were elevated to "comprehensive partnership" level by the exchange visits of Prime Minister Sheikh Hasina and her counterpart Shinzo Abe in recent years.
Bangladesh is currently ranked 177th among 190 countries in the World Bank's Ease of Doing Business ranking.
The BIDA has set an ambitious target of securing a place below 100 by 2021, which means at least 15 notches of improvement would be required a year.
It has taken a major reform package to ease the process of doing business in Bangladesh which has attained a steady economic growth in recent years and eligibility of coming out of the LDC bracket recently.
The BIDA executive chairman is branding this 'new Bangladesh' in different capitals with special seminars focusing to woo foreign investors.
He told the Japanese investors that Bangladesh is a country with a "winning combination" for investors.
Those include "a business friendly government, competitive skilled workforce, ever expanding infrastructure, improving business climate and friendly and welcoming people".
"This is the place to be in, invest and develop your business, proudly create and happily share the prosperity of Bangladesh," Islam added.
For businessmen, he said, "you can procure anything which is needed for inputs. There is no restriction. Now the economy is moving so take advantage of that".
He said once there was only one port. "Now we have three ports and one deep sea port with Japanese support in under construction."
"Our quality of labour is 77 percent of that of the Chinese, but the wage is one-third so which one is more efficient?" he asked as Japan is focusing on China+1 to shift their production base from China to elsewhere.
The BIDA chief said despite the low ranking in the ease of doing business index, Bangladesh is the best performing emerging market in the world with 7.8 percent growth.
"Think about the situation when all the improvements of ease of doing business happen, our growth rate will be double digit and that will continue for many years."
On competitiveness, he said Bangladesh improved seven points in one year and because of that, it is a member of the 1OO most competitive club in the world.
"Lack of power was an issue previously, now no more. Now we are working on reliability for ensuing seamless power supply".
As for energy, he said one LNG terminal is already in operation and another is coming within next few months.
"I can assure you there will be no dearth of gas supply in six months."
He said Bangladesh is the most liberalised in terms of tariff.
The high corporate tax of 35 percent does not deter companies from making money: Telenor, which operates in more than 60 countries, has the most profitable global operation in Bangladesh. For Unilever, which is everywhere in the world, the Bangladesh market is the most profitable.
"Corporate tax did not stop them making that much of money," the BIDA executive chairman said.
"We are providing virtual services in the next few months so that you don't have to go to any government offices…you can apply for registration in the comfort of your home.
"We are making all these provisions for the investors, for facilitation," he said, adding that there will be no need to have a bank account to get registration.
"You will get a temporary registration and within 90 days, when you open your bank account that will regularise everything, so that problem also goes."
As Bangladesh is graduating from the LDC, Aminul Islam said there will be different challenges in future and countries like Japan with knowledge and higher level of technology can engage with countries like Bangladesh that provide good investment opportunities.
Referring to the unprecedented terrorist attack at Holey Artisan Bakery in which Japanese were killed, he said it was the first and last such attack in Bangladesh.
"Terrorism is not part of our society. We live together with people from different cultures, religions and ethnicities. Security is not an issue," the BIDA chief told the Japanese businesses.
Managing Director of Energypac Humayun Rashid, speaking for Bangladesh's private sector at the seminar, shared his personal story.
He said he had emigrated to the US having lost his faith in Bangladesh, but returned in 1996.
"We can see the future. Bangladesh will keep going. You should be part of that growth, part of it to change our future," Rashid said.
"You can keep trust in the government. Bangladesh is a country where we can do business," he said, inviting Japanese companies. "We can collaborate with each other and build a future."
Abul Mansur Md Faizullah, Chairman of Petrobangla, presented gas and LNG activities of the government before the potential investors.
The delegation will go to Tokyo on Wednesday for another round of interactions with Japanese businesses and entrepreneurs.
Courtesy: bdnews24.com