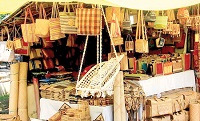 Jute and jute goods export maintained a steady growth as the country earned $66.18 crore in the first seven months (July-January) of the current fiscal year (FY2017-18), which is 17.36 percent up from the previous fiscal (FY2016-17).
The country earned $56.39 crore by exporting jute and jute goods during the same period in FY2016-17.
According to the Export Promotion Bureau (EPB), earnings from raw jute export were $9.55 crore during July-January period of FY2017-18, from jute yarn and kundali were $41.46 crore, from jute sac and bag were $9.25 crore and from other jute products were $7.03 crore.
"There is huge demand of jute and jute goods of Bangladesh in around 60 countries. But we are failing to exploit this huge export potential properly because we are lagging behind in production and diversification of jute and jute products," said chairman of Bangladesh Jute Mill Corporation (BJMC) Dr Mahmudul Hasan.
Talking to BSS, he said the present government has taken special measures to produce quality jute and diversify jute products. Along with extending policy support, the government has increased cash incentive for diversification of jute products, he added.
"Cash incentive has been increased to 20 percent for export-oriented diversified jute products. As a result, export of diversified quality jute products has increased several times," said Hasan.
He said people across the world are increasingly becoming conscious about the benefits of the use of natural yarns and the showing interest to use jute products. Considering the rising demand of jute goods, Bangladesh is also producing new diversified jute products to attract the foreign buyers, he added.
Measures have already been taken to collect quality jute seeds for increasing jute production so that the jute growers become interested to grow jute in a large scale.
He said steps have also been taken to install modern equipment in jute mills in public sector for the production of diversified goods.
According to BJMC, there are 22 jute mills in operation under public sector while the number of jute mills in private sector is around 200.
(Courtesy: Bangladesh Sangbad Sangstha )