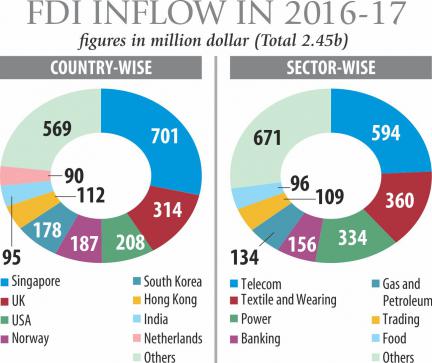 Foreign direct investment hit an all-time high of $2.45 billion in fiscal 2016-17 on the back of a surge in equity investment by mobile phone operators.
The inflows are an increase of 22.54 percent from a year earlier, according to data from the Bangladesh Bank.
The telecom sector saw the highest inflows of $594 million, followed by textile and garment at $360.35 million and power at $334.26 million.
Last fiscal year, $701 million flew in from the Singapore, $314 million from the UK, $208 million from the US, $187 million from Norway, $178 million from South Korea, $112 million from Hong Kong, $95 million from India and $90.04 million from the Netherlands.
The central bank calculates the FDI in three categories: equity, reinvestment of earnings and intra-company loan.
Last fiscal year, equity capital or new investment shot up 99.13 percent to $1 billion.
"Some mobile phone operators brought in a significant amount of equity capital last fiscal year. This had a positive impact on the net FDI flow," said a BB official.
Reinvestment of earnings by existing foreign companies also edged up 8.70 percent last fiscal year to $1.25 billion.
"It is a positive indicator for the country's private sector that the foreign companies have not repatriated their profit abroad -- they are raising their investment."
Besides, the foreign companies made sufficient profit, which is a positive sign, the BB official said.
Intra-company loans more than doubled year-on-year to $195.07 million during the period. Foreign investors are still reluctant to invest in Bangladesh because of infrastructure deficits, scarcity and high prices of land, corruption, political uncertainty and concern over security, the central bank official said.
(Courtesy: The Daily Star)