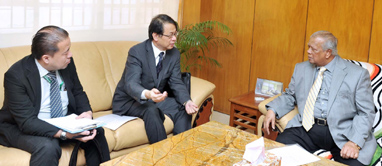 Industries Minister Amir Hossain Amu has sought more Japanese investment for setting up automobile industries in Bangladesh and said that Honda has started working to set up a motorcycle production unit here jointly with the industries ministry.

"Japan can go for joint venture with the Bangladesh government in setting up automobile industries here," said Amu when Japanese ambassador to Bangladesh Hiroyasu Izumi called on him at his secretariat office here today.

Bilateral issues such as Japanese investment in Bangladesh, technology transfer, shifting of different factories to Bangladesh from Japan came up for discussion during the meeting, said a handout.

Terming Japan as one of the major development partners, Amu said Japan has been giving financial support to a number of important development programmes, including conducting pre-feasibility study of Padma Bridge and construction of Matarbari coal-fired power plant.

He also urged Japan to invest in solar glass production industry in Bangladesh.

Japanese ambassador said Japan gives priority to socio-economic development of Bangladesh because of the historic bilateral relations between the two countries.

Japan will continue its assistance for the development of Bangladesh, Hiroyasu Izumi said and urged the industries minister to take steps for the development of infrastructure for industrialization.

Industries secretary Mohammad Abdullah, additional secretary Begum Parag, BCIC chairman Shah Md Aminul Haque and high official from Japan's embassy were present at the meeting.
(Courtesy: Bangladesh Sangbad Sangstha )