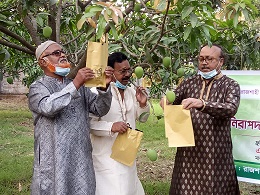 After meeting up the local demands, Rajshahi and Chapainawabganj districts, nationwide famous for mango production, have set the target to export 300 tonnes of mango to different European and Middle East countries during the forthcoming harvesting season.
To achieve the target, mangoes are being fruit bagged after the best use of modern technologies in the two districts at present. Apart from this, the best quality mangoes are being produced for export to foreign countries.
Rajshahi Mayor AHM Khairuzzaman Liton revealed this while inaugurating the fruit bagging programme for producing safe and pest-free mango in a five-bigha mango-orchard here today.
President of Rajshahi Agro Food Producer Society Anwarul Haque and Vice-president Dr Abdul Khaleque were present on the occasion.
Speaking on the occasion, Mayor Liton said mangoes produced in Rajshahi are being exported to various European and many other countries every year, which is good news for Rajshahi people.
All stakeholders including farmers must have to produce good quality mangoes maintaining its highest value, if they want to continue export of mangoes to Europe's chain shops.
"We are trying to establish agro-based industries here strengthening the economic condition through expanding trade and business," he added.
In his remarks, Anwarul Haque said mango farming in the fruit-bagging method has gradually been rising here for the last couple of years. If the mango is cultivated through this method there is no need of use of pesticide to prevent fruit-fly. As a result, mango remained in poison-free condition.
He said many farmers and value chain actors got the necessary training on best agricultural practices and with that, they started exploring the high-value export markets.
Haque added that the highest quantity of mango had been exported in 2016. Mango export is almost double profitable than that of selling in local markets. But additional cost and care is needed for preparing the exportable mango as it requires use of modern technologies.
Demands are high for mangoes produced through fruit bagging due to their purity from adulterants as it is a modern and environment-friendly method.
Source : May 2, 2021 (BSS)