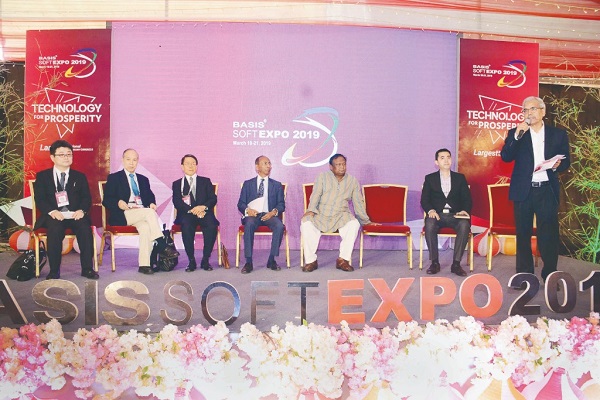 Executive Chairman of Bangladesh Investment Development Authority (Bida), Kazi M Aminul Islam, said they would implement major reforms to improve Bangladesh's ranking in the World Bank's Ease of Doing Business Index.
He made the announcement while speaking at a plenary session of "Doing Business with Japan," part of the 15th BASIS Soft Expo 2019 at the International Convention City Banshundhara (ICCB), in Dhaka.
Aminul said: "Bangladesh is currently ranked 177 among 190 countries in the World Bank's Ease of Doing Business Index. Bida has set an ambitious target of bringing major reforms to ease the process of doing business in the country, which has attained steady economic growth in recent years and will hopefully come out of the LDC (least developed countries) group very soon.
"We are hoping various Japanese companies will come to our country and bring in investments," he said, adding that Bida is trying to ensure safety and security for all foreign investors.
"Bangladesh is now a unique platform for foreign investors, not only for Japanese ones," he stated.
Speaking as chief guest at the event, Commerce Minister Tipu Munshi invited Japan to contribute to the Information Communication Technology (ICT) sector of Bangladesh, sayin that its investment can expedite development.
Tipu announced that the government has decided to allocate a big economic zone to Japan, out of the 100 special economic zones (SEZs) being developed across the country.
"Since Bangladesh's independence, Japan has been our partner in progress. Recently we approved a proposal to lease 1,000 acres of land for an investment of Tk500 crores, to the Japanese. Japan can extend cooperation to Bangladesh in the ICT sector, as the country is very advanced in these matters," he added.
Delivering the keynote speech, Japan Development Institute Chairman, Sholchi Kobayashi, said: "Japanese government and non-government institutions are ready to invest and work together with Bangladesh in various sectors, including infrastructure and communications. "
Chairman of Japan Bangladesh Society and former Japanese ambassador, Matsushiro Horikuchi, said the country's ties with Bangladesh will grow stronger.
Among others, General Secretary of Japan Bangladesh Chamber of Commerce and Industries, Tareq Rafi Bhuiyan, was also present at the session.
Bangladesh Association of Software and Information Services (BASIS) and the ICT Division jointly organized the three-day event.
Courtesy: Dhaka Tribune