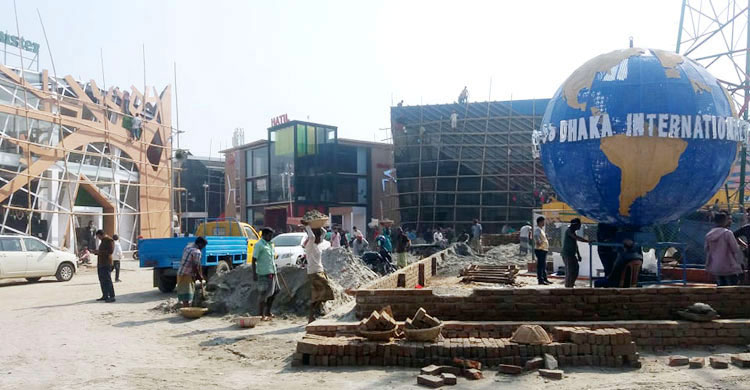 The 24th Dhaka International Trade Fair (DITF) begins at Sher-e-Bangla Nagar in the city on Wednesday.
President Abdul Hamid will inaugurate the fair for the time at 3pm. The DITF is usually opened by the Prime Minister. However, Prime Minister Sheikh is now very busy, Avijit Chowdhury, Director General of the Export Promotion Bureau, told UNB.
The DITF, which usually begins on January 1, was pushed back because of the December-30 national election. A new cabinet, led by Sheikh Hasina, was sworn in on Monday.
Traders from different countries, including India, Bhutan, Pakistan, China, the US, the UK, Nepal, Australia, Germany, Hong Kong, Thailand, Vietnam, the Maldives, Mauritius, Russia, Iran and Swaziland, will participate in the DITF.
President Abdul Hamid and Prime Minister Sheikh Hasina issued separate messages on the occasion, wishing a grand success of the event.
The fair will remain open for visitors from 10am to 10pm until February 8.
There will be 550 stalls and pavilions, including 60 premium pavilions, 38 premium mini pavilions, 20 reserved pavilions for women, 26 foreign pavilions, 18 general pavilions and 22 food stalls in the fair.
The participants will display different kinds of products, including readymade garments, handicraft, leather and plastic polymer and food items.
Avijit said the mega event will be shifted to a permanent venue in Purbachal in 2021, where construction work is going on at the moment.
The EPB and Commerce Ministry have been organising the month-long annual fair since 1995.
(Courtesy: UNB)